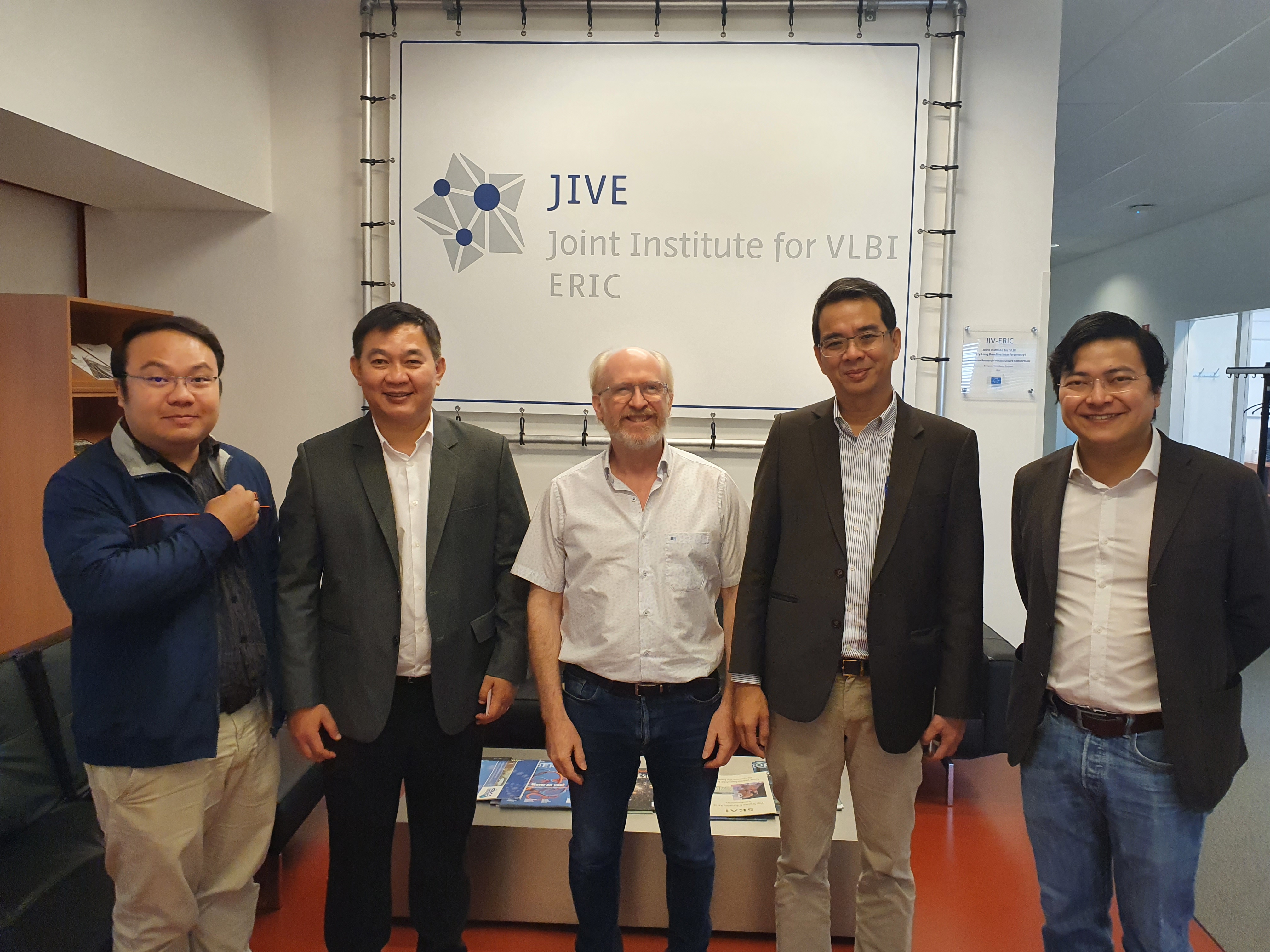 On 28 July 2022, a delegation of the National Astronomical Research Institute of Thailand (NARIT) visited JIVE headquarters in Dwingeloo, the Netherlands.
The NARIT delegation -  led by NARIT Executive Director Dr. Saran Poshyachinda - were received by JIVE Director Francisco Colomer who welcomed them to the JIVE facilities and led them to a tour of the JIVE Correlator.
The visit continued with a presentation by the NARIT delegates to all JIVE staff about NARIT activities and future collaboration with JIVE and the European VLBI Network (EVN), including the construction of the 40-metre radiotelescope close to Chiang Mai, Thailand, that will potentially join the EVN.
In 2019, JIVE signed a Memorandum of Understanding with NARIT in order to facilitate the training and collaboration among the different partners' engineers and operators and to support the development and construction of radio astronomical instrumentation. At a latitude of 19 degrees north, this telescope will provide an extension of the EVN towards the south which is now only exceeded by Hartebeesthoek in South Africa. It is also relatively close to the Kunming telescope in southwest China, and it will provide mid- length baselines (1,000 to 3,000 km) to the other east-Asian telescopes, and long baselines (over 6,000 km) to most of the telescopes in Europe.
In the afternoon, the NARIT delegation met with several JIVE staff to discuss among other topics about R&D activities and to learn about updates of the PRIDE experiment - led by JIVE - as part of ESA's JUICE mission.
Additional Information
The European VLBI Network (EVN) is an interferometric array of radio telescopes spread throughout Europe, Asia, South Africa and the Americas that conducts unique, high-resolution, radio astronomical observations of cosmic radio sources. Established in 1980, the EVN has grown into the most sensitive VLBI array in the world, including over 20 individual telescopes, among them some of the world's largest and most sensitive radio telescopes. The EVN is composed of 13 Full Member Institutes and 5 Associated Member Institutes.
The Joint Institute for VLBI ERIC (JIVE) has as its primary mission to operate and develop the EVN data processor, a powerful supercomputer that combines the signals from radio telescopes located across the planet. Founded in 1993, JIVE is since 2015 a European Research Infrastructure Consortium (ERIC) with seven member countries: France, Italy, Latvia, the Netherlands, United Kingdom, Spain and Sweden; additional support is received from partner institutes in China, Germany and South Africa. JIVE is hosted at the offices of the Netherlands Institute for Radio Astronomy (ASTRON) in the Netherlands.
Contact
Francisco Colomer
JIVE Director
Joint Institute for VLBI ERIC (JIVE)
colomer@jive.eu
Jorge Rivero González
JIVE Science Communications Officer
Joint Institute for VLBI ERIC (JIVE)
rivero@jive.eu