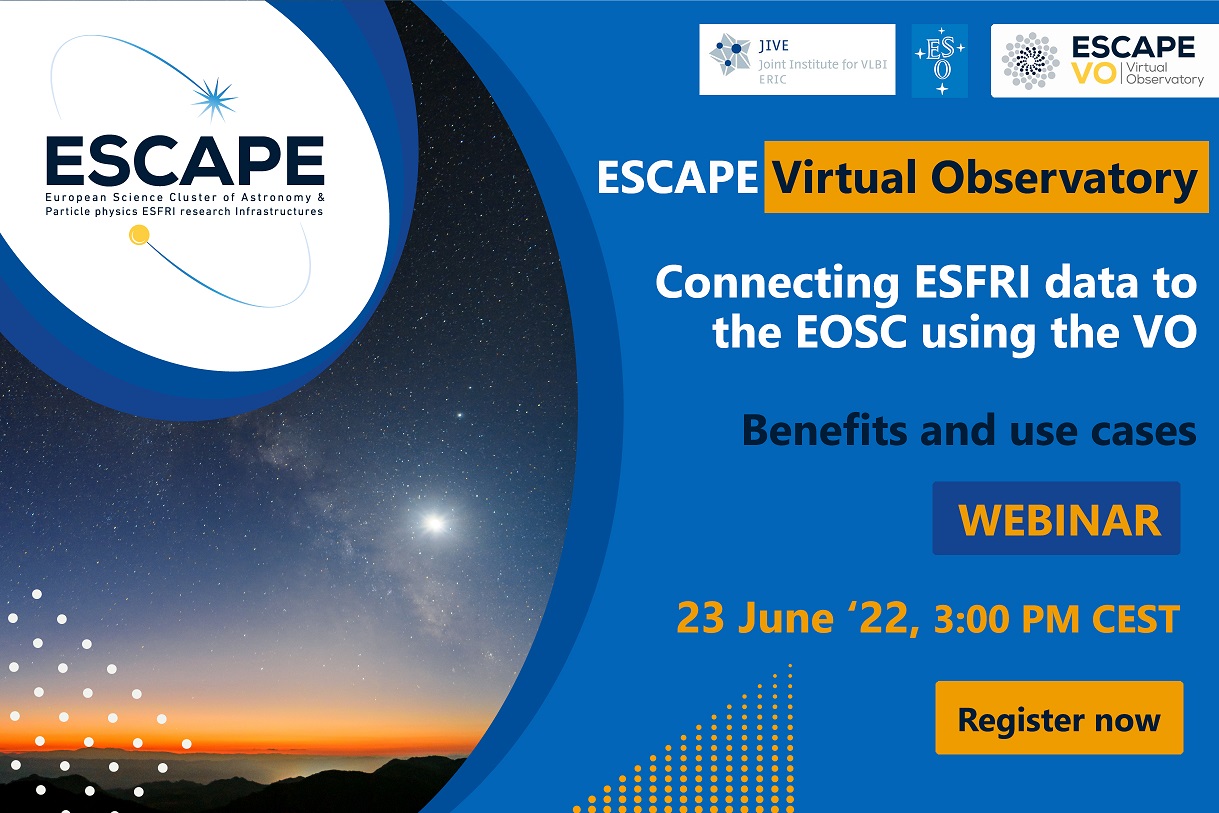 On 23 June 2022, the H2020 ESCAPE Project is organising the online webinar "ESCAPE VO | Connecting ESFRI data to the EOSC using the VO", including the participation of Marjolein Verkouter, JIVE Head of Technical Operations and R&D. Participation on the webinar is free but registration is mandatory.
The H2020 ESCAPE Project - of which JIVE is a member - is organising an online webinar that will show how ESCAPE Virtual Observatory (VO) has been supporting European Strategy Forum for Research Infrastructures (ESFRIs) by allowing cross-border and multidisciplinary research, as well as by ensuring that the needs of the ESFRI projects are taken into consideration in the development of VO standards.
The webinar will take place on 23 June 2022 - 3pm CEST (1pm UTC). Find updated information at the webinar webpage and on how to register here.
Agenda (draft)
8min - The Virtual Observatory (VO) in ESCAPE and EOSC (Mark Allen, ESCAPE VO Team Leader & Director of the Strasbourg Astronomical Data Centre)
8min - Introduction to the ESCAPE VO (Hendrik Heinl, ESCAPE VO Team Member & Research Engineer at Strasbourg Astronomical Data Center)
8min - Hands-on Open Science training for early career astronomy researchers (Stefania Amodeo, Postdoctoral researcher at Strasbourg Astronomical Data Center)
8 mins - The VO-service at JIVE (Marjolein Verkouter,  Head of Technical Operations and R&D JIVE)
8 mins - The VO-service at ESO (Martino Romaniello, Astronomer at ESO)
8mins - Achievements and CEVO and outlook (Mark Allen, ESCAPE VO Team Leader & Director of the Strasbourg Astronomical Data Centre)
12mins - Q&A, Discussion
Additional information
The H2020 ESCAPE project aims to find solutions for common problems identified between astronomical, astrophysical and particle physics research domains with the intent to define requirements of the European Open Science Cloud. Common problems have been identified in the areas of handling (extremely) large datasets, finding the scientifically verified / curated software for extracting science from those datasets and knowledge of requirements to run it, enabling discovery of datasets and a science analysis platform that allows joint analysis of datasets from different (ESCAPE) partner instruments or observations.
The European VLBI Network (EVN) is an interferometric array of radio telescopes spread throughout Europe, Asia, South Africa and the Americas that conducts unique, high-resolutionhttps://www.evlbi.org/, radio astronomical observations of cosmic radio sources. Established in 1980, the EVN has grown into the most sensitive VLBI array in the world, including over 20 individual telescopes, among them some of the world's largest and most sensitive radio telescopes. The EVN is composed of 13 Full Member Institutes and 5 Associated Member Institutes.
The Joint Institute for VLBI ERIC (JIVE) has as its primary mission to operate and develop the EVN data processor, a powerful supercomputer that combines the signals from radio telescopes located across the planet. Founded in 1993, JIVE is since 2015 a European Research Infrastructure Consortium (ERIC) with seven member countries: France, Italy, Latvia, the Netherlands, United Kingdom, Spain and Sweden; additional support is received from partner institutes in China, Germany and South Africa. JIVE is hosted at the offices of the Netherlands Institute for Radio Astronomy (ASTRON) in the Netherlands.
Contact
Marjolein Verkouter
Head of Technical Operations and R&D
Joint Institute for VLBI ERIC (JIVE)
verkouter@jive.eu
Jorge Rivero González
JIVE Science Communications Officer
rivero@jive.eu