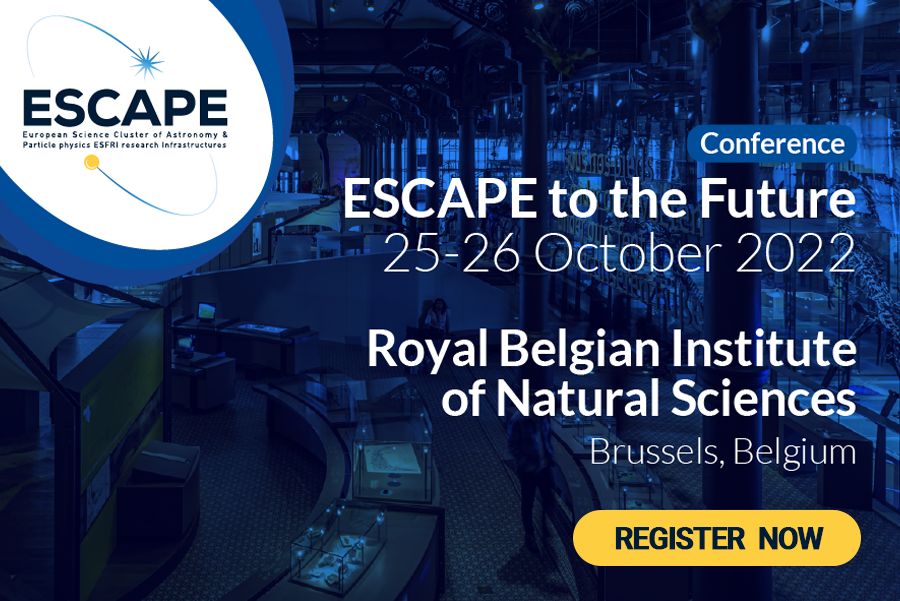 On 25-26 October 2022, the H2020 ESCAPE Project is organising its Final Event at the Royal Belgium Institute of Natural Sciences, located in Brussels (Belgium). The event will also be accessible through remote connection and registration is open until 24 September 23:59 CEST.
The H2020 ESCAPE project, which includes JIVE as one of its partners, aims to find solutions for common problems identified between astronomical, astrophysical and particle physics research domains with the intent to define requirements of the European Open Science Cloud. On this final event, ESCAPE Members will share their results and achievements, present ESCAPE services and discuss the future challenges of the ESCAPE Collaboration.
Find more information about the event, its programme and how to register here.
Additional information
The Joint Institute for VLBI ERIC (JIVE) has as its primary mission to operate and develop the EVN data processor, a powerful supercomputer that combines the signals from radio telescopes located across the planet. Founded in 1993, JIVE is since 2015 a European Research Infrastructure Consortium (ERIC) with seven member countries: France, Italy, Latvia, the Netherlands, United Kingdom, Spain and Sweden; additional support is received from partner institutes in China, Germany and South Africa. JIVE is hosted at the offices of the Netherlands Institute for Radio Astronomy (ASTRON) in the Netherlands.
Contact
Marjolein Verkouter
Head of Technical Operations and R&D
Joint Institute for VLBI ERIC (JIVE)
verkouter@jive.eu
Jorge Rivero González
JIVE Science Communications Officer
rivero@jive.eu